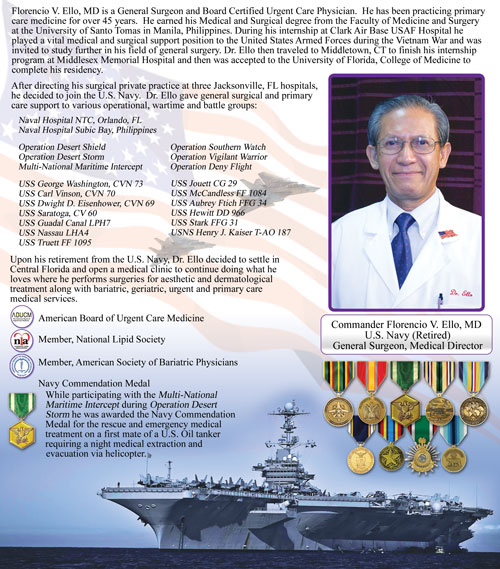 Alpha Medical Clinic is a Primary Care/General Practice, Bariatric (weight loss) Medical, Cosmetic Surgical and Aesthetic Procedure Center devoted to renewing and retaining the highest level of confidence for our patients. Our doctor has taken medical care to a level where feeling great and looking great can merge to offer the best possible solutions for our patients.
We help our patients acheive the results they desire. Our patients continually progress towards living a healthier life and feeling better about life.
Our fully trained staff range from medical assistants to MD's and everything inbetween. Having an advanced medical staff gives our patients a secure state-of-mind. We are also a primary care/urgent care clinic that operates on a true medical side diagnosing and treating patients thoroughly and effectively. As the medical director, Dr. F.V. Ello, MD directs the entire staff and is a board certified medical doctor and general surgeon. It is his mission to merge a healthy lifestyle, proper diet and exercise with advanced medical treatment to create his very own proprietary creams, lotions and procedures, which are currently only available from our clinic.
Our Services
Our goal as a medical weightloss and aesthetics center is to offer the
most effective treatment for any one that has a cosmetic issue, specifically with a weight or an aesthetic problem. We have many products and services to choose from for any gender. Our services allow you to choose from many different solutions.
Medical Weightloss (Bariatric Medical Management)

Apollo TriPollar Radio Frequency Treatment (Fat Reduction and Skin Tightening with Collagen Remodeling)

Alpha Cream (MesoTherapy Cream)

AlphaCHANGES (Automated Workout System)

Although individual results will vary from patient to patient, Alpha has
achieved great success across the board. Each body type differs and
represents a unique challenge for each patient. Those patients with the will to achieve find their success accelerated when complimented with our products and services.
Some of our treatments and procedures are fast and can be performed
on your lunch break.* We use advanced procedures and anesthesia
techniques to minimize "down-time." Using this approach, we can hand down the cost savings benefit to the patient. We accept most major credit cards. Call to schedule your appointment today.
* Treatment/Procedure times can vary due to patient needs and scheduling conflicts.
Patients are evaluated on a case-by-case basis with each procedure/surgery tailored to meet the needs of that individual patient.
© Copyright 2016 Alpha Medical Corporation. All Rights Reserved.